ABOUT
DOTTIE HERMAN
Dottie Herman is the quintessential American success story. She exemplifies the qualities of a great leader, mentor, and role model. After attending Adelphi University, Dottie began her real estate career in 1978 working as a broker for Merrill Lynch on Long Island. In 1989, Merrill Lynch sold their real estate division to Prudential, where Dottie stayed on as one of their leading brokers. With the change in ownership, Dottie was convinced she could run the company herself, so in 1990 she borrowed $7 million dollars from Prudential to purchase Prudential Long Island Realty. Despite being told she would never succeed, she turned the company into the powerhouse brokerage on Long Island and then in the Hamptons. Ready to conquer the Manhattan market, in 2003, Herman and her business partner Howard Lorber purchased Douglas Elliman, Manhattan's largest and most prestigious brokerage firm. Since then, Douglas Elliman has become the largest and fastest-growing real estate residential brokerage in New York and Dottie the most successful woman in real estate.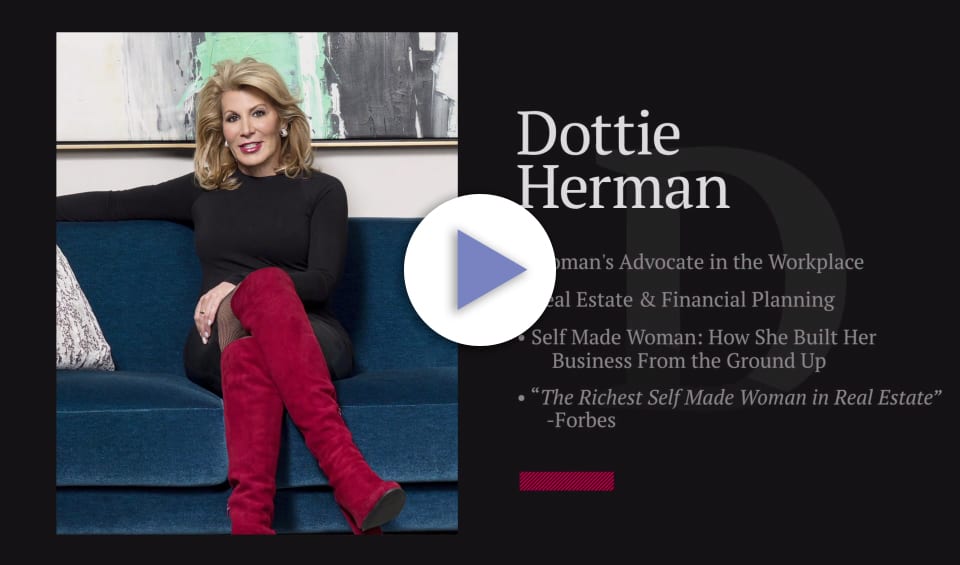 In only two decades, Dottie climbed to the pinnacle of the housing industry –when she became the CEO of Douglas Elliman, ranked the third largest real estate company in the United States. Today, thanks to her extraordinary leadership, Douglas Elliman is New York's largest residential brokerage and 3rd largest in the USA, operating 115 offices in New York City, Long Island, The Hamptons, Westchester, Connecticut, New Jersey, Florida, California, Colorado and Massachusetts with over 7,000 real estate professionals and 675 employees. Moreover, Douglas Elliman has a strategic global alliance with London-based Knight Frank Residential for business in the worldwide luxury markets spanning 60 countries and six continents.
As a true visionary and prominent role model in business, Dottie will launch her new leadership venture in 2022 for women who aspired to be entrepreneurial. While Dottie has a love of real estate, her real passion is inspiring business leaders in all fields. She is currently writing a book, planning the launch of her new podcast aimed at women 50+ (who she refers to as the invisible generation) and she plans to expand her purview into coaching, speaking and television.
Throughout her distinguished career, Dottie has received several honors and accolades for her work in real estate and her success in business. In 2008, she was honored at the 12th Annual Heart of the Hamptons Gala, receiving the Distinguished Community Leadership Award for her continual support and contributions. In 2009, the Guardian Angels honored Dottie with the Outstanding New Yorker Award. In 2009 and 2011, Crain's New York Business named her among the 50 Most Powerful Women in New York. For the last four consecutive years, Dottie has been celebrated on The New York Observer's The Power 100, a list recognizing New York City's most influential people in real estate. In 2016, Forbes named Dottie as "America's Richest Self-Made Women in Real Estate." In 2017, Dottie was honored at the United Nations Women's Entrepreneurship Day where she was awarded the prestigious, Business Pioneer Award and in May 2018 she was awarded the Ellis Island Medal of Honor. In July 2018, Dottie received the NAWRB's The Influencer Roaring Thirty Award.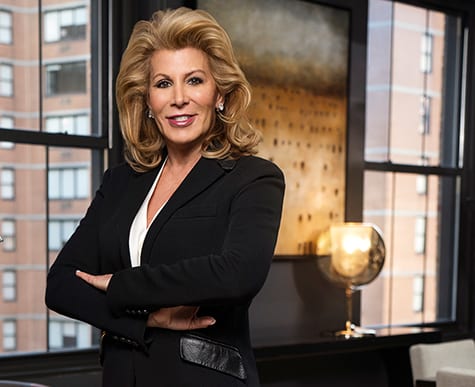 She is also host of AM970 The Answer's popular Saturday morning radio show, Eye on Real Estate, focused on the latest real estate market trends and news. She's also a partner in an all- women's syndicate, Lady Sheila Stable Two, which invests in thoroughbreds. It's the rush of winning that keeps Dottie chasing new and exciting ventures.
Dottie is an honored contributor to The Sunrise Fund at Stony Brook University Medical Center, a program established to raise awareness and funds for pediatric oncology programs. Dottie is a long time supporter of the American Heart Association, the Tilles Center for the Performing Arts, the Stony Brook/Southampton Hospital, the Katz Institute for Women's Health and Katz Women's Hospital located at North Shore University Hospital in Manhasset and LIJ Medical Center in New Hyde Park. She is also involved with the Northwell Health Walk for Katz Institute for Women and Cohens Children's Hospital.
When she's not traveling internationally and domestically, she resides in New York City, Southampton and Palm Beach.
Press Contact: Linda Loeffler | 518-322-6413 | linda@dottieherman.com