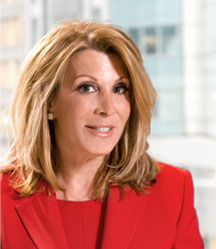 Photographed by Josh Lehrer for Avenue Magazine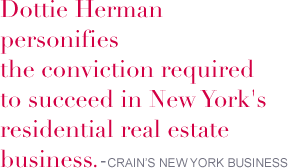 Dorothy Herman,
Dottie, is the quintessential New York success story. In only two decades, she climbed to the pinnacle of the housing industry – CEO of Douglas Elliman, the #4 ranked real estate company in the United States. Today, under her leadership, Douglas Elliman is New York's largest residential brokerage, with over 6,000 real estate professionals and 675 employees working in more than 80 offices in Manhattan, Brooklyn, Queens, Long Island, the Hamptons and the North Fork, Westchester/Putnam and South Florida, Aspen and Los Angeles. Dottie created a company that serves the customer's every real estate need. In addition to leading New York's largest residential real estate brokerage and rentals, she also controls a portfolio of real estate services, including commercial and retail leasing and sales, relocation and settling in services, new development consulting and also Manhattan's largest residential property manager, Douglas Elliman Property Management, as well as DE Capital Mortgage.
Dottie began her career on Long Island, and purchased Prudential Long Island Realty in 1989. After turning the company into the powerhouse brokerage operating on Long Island and in the Hamptons, she purchased Douglas Elliman, Manhattan's largest and most prestigious brokerage firm, with her partner Howard Lorber in 2003. Since then, Douglas Elliman has become the largest and fastest-growing real estate firm in New York, with offices from Manhattan to Montauk, and no in Westchester County and South Florida. Dottie is an honored contributor to The Sunrise Fund at Stony Brook University Medical Center, a program established to raise awareness and funds for pediatric oncology programs. In the summer of 2008, Dottie was honored at the 12th Annual Heart of the Hamptons Gala, receiving the Distinguished Community Leadership Award for her continual support and contributions. In 2009, the Guardian Angels honored Dottie with the Outstanding New Yorker Award, and she was named among the 50 Most Powerful Women in New York by Crain's New York Business, an honor she received again in 2011. In 2010, Dottie was named as one of The New York Observer's Power 150 and by Inman News as one of the Top 100 Most Influential Real Estate Leaders. For the last four consecutive years, Dottie has been celebrated on The New York Observer's The Power 100, a list recognizing New York City's most influential people in real estate. She is also host of WOR's popular Saturday morning radio show, Eye on Real Estate, focused on the latest real estate market trends and news. Dottie is a long time supporter of the American Heart Association, the Tilles Center for the Performing Arts, the Southampton Hospital, the Katz Institute for Women's Health and Katz Women's Hospital located at North Shore University Hospital in Manhasset and LIJ Medical Center in New Hyde Park. She is also involved with the Every Woman Matters Walk: A Walk for Women and Their Families.